TSA Fast Pass® - guaranteed to make pet airline travel faster, safer and hassle free.
---
TSA Fast Pass® - the first Leash & Harness Set developed for pets traveling in cabin on airplanes. It features a step in design making it the easiest harness to put on and take off your cat or dog. It is metal free making TSA Airport security inspections quick, easy and hassle free. Just remove your pet from the carrier, send the carrier through the X-ray machine while you carry your cat or lead your dog in his harness & leash through the metal detectors. It is guaranteed NOT set off any alarms. No more invasive pat downs, hand wands or private screening rooms trying to determine what exactly triggered the alarms. Helps keep your pet calm and in your control during this stressful process.
---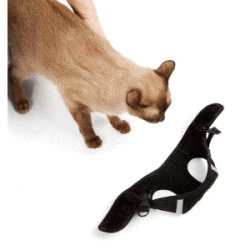 Previous
Next
Fast Pass Customer - Steve Green

We got a chance to use the TSA Fast Pass on our recent trip to Arizona and it is simply ingenious! I love the step in vest design so simple to put on, actually takes seconds. Susie and I both thank you!

Fast Pass Customer - Kevyn Popovich

Easy to put on and we walked through TSA in a single try! No special screening and no alarms trigger like our old harness and leash. I never realized how something so simple could save so much time and hassle, for me and Coco.

Fast Pass Customer - Sue Lyster

Huge improvement to the whole TSA screening processes. My cat is very scared and I like to go through the screening as quick as possible and get Buddy back into his soft carrier. It used to take way too long with him actually panicking in my arms. Now we just walk through in seconds.